'THE LAND WE LIVE IN – THE LAND WE LEFT BEHIND'

+

-
Hauser & Wirth Somerset  'The Land We Live In – The Land We Left Behind'
20th January – 7th May 2018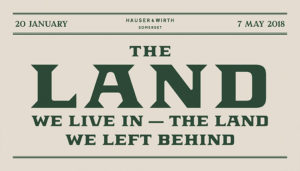 This ambitious survey exhibition explores the contradictory nature of society's relationship to the rural featuring the Phytology project.
The presentation features over 50 international artists and creatives, as well as works on loan, by artists working from the 1500s to the present day, including Paul McCarthy, Beatrix Potter, Carsten Höller, Laure Prouvost, William Holman Hunt, Samuel Palmer, Frank Lloyd Wright, Marcus Coates, Fernando García-Dory, Roni Horn, Aaron Angell and Mark Wallinger, Mark Dion, Mildred's Lane, Myvillages, Somewhere, Kultivator, Fairland Collective and Phytology, among many others.
Curated by Adam Sutherland.