Episode 3: The Cure of Folly
Episode 4: Internal Problems
string(3) "898" string(3) "896" string(3) "894"
Nathaniel Mellors

Episode 1: Games

Episode 2: Class

Episode 3: The Cure of Folly

Episode 4: Internal Problems

Episode -1: Time
Ourhouse is a five part film project written and directed by Nathaniel Mellors, featuring performances by Richard Bremmer, Gewndoline Christie, Johnny Vivash, Benedict Hopper, David Birkin and Brian Catling.
The film's narrative presents a wealthy European family who are unexpectedly confronted by a mysterious manifestation, 'The Object', which suddenly appears in the living room of their country home. This imposing figure seems to have a profound effect on the conduct of each individual family member. At night 'The Object' eats pages from ideological texts, which it subsequently spits out again. Owing to this, the father figure, 'Daddy', changes radically from an elitist with liberal economic convictions, to someone who goes in search of collectivist ideals.
With a succession of word play, fragmentation and experimental dialogues, Mellors reveals how language can create a world all by itself, and at the same time falls short in facilitating human communication. Ourhouse hybridises aspects of TV drama, absurdist theatre and science fiction, drawing inspiration from popular icons of cinema and theater, while making pointed observations about language, cultural appropriation and power structures.
The Ourhouse series commenced production in 2010, with the latest episode completing production in 2016.
Nathaniel Mellors
Mellors studied at the University of Oxford's Ruskin Ruskin School of Drawing and Fine Art, the Royal College of Art and the Rijksakademie van beeldende kunsten, Amsterdam.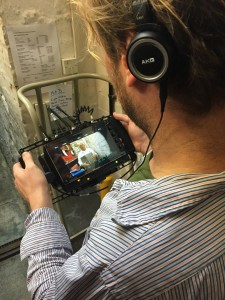 Mellors' output includes installation, sculpture, film and video, music, performance, collage, painting, prints and critical writing.
He was represented in the Tate Trienniel 2009, Altermodern, by a work Giantbum 2009, based on a story written by Mellors about a party of medieval explorers who lose their way in the body of a giant. The work used film and animatronic heads.
Adrian Searle (The Guardian) said: 'There is a lot of bad acting and declaiming, a succession of dreadful puns, gags about a time-travelling Doctor Poo and Father Shit-mass, and some mock golden showers. Imagine the 120 Days of Sodom redone as panto.'
Episode 1: Games
In episode one we 'meet' each member of the Maddox-Wilson family: Truson (David Birkin), Faxon (Benedict Hopper), Babydoll (Gwendoline Christie), Bobby Jobby (Johnny Vivash), Uncle Tommy (Patrick Kennedy) and the patriarch Charles 'Daddy' Maddox-Wilson (Richard Bremmer).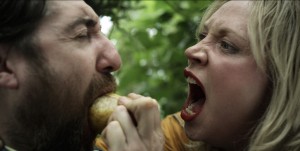 The film begins with the appearance of 'The Object' (Brian Catling) in the family's front room, and ends with the family discovering it as a group - and experiencing profound linguistic confusion as they attempt to express what they are seeing. Are they all seeing something different?
Episode 2: Class
Episode two finds 'The Object' eating a social-history text on slum housing conditions and the working class, and Daddy experiences an outbreak of downward mobility, excitedly announcing his intentions to spend the entire day 'down the pub' where he will drink lots and 'write a play'.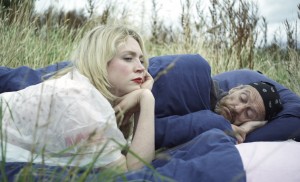 Along the way he confuses a historical reenactment society with people he has employed to work on his house.
Episode 3: The Cure of Folly
'The Cure of Folly' commences with 'The Object' eating several books on Flemish painting. Simultaneously a contemporary haywain procession, led by a feminist mystic called 'The Hek', threatens the Maddox-Wilson home in search of the 'stone of madness'.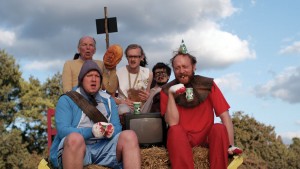 Episode 4: Internal Problems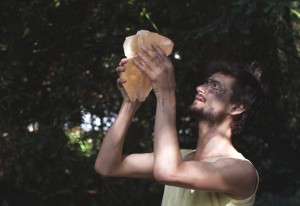 'Internal Problems' finds Daddy feeling threatened by the local council, who he sees as part of a broader conspiracy threatening his personal liberty and sovereignty within Ourhouse.
Truson takes up photography as a strategy to get into art-school, only to discover that his photography seems to kill the local wildlife.
Episode -1: Time
In episode -1 'Time' the Maddox-Wilson family find themselves inundated by Neanderthals as a series of fantastical events unfold within the family's T.A.R.D.I.S like home.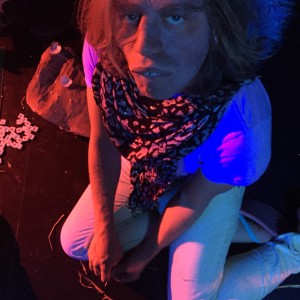 The main character, Charles 'Daddy' Maddox-Wilson, has invented a revolutionary new theory of time - but the family's subsequent attempts at timetravel see them duped, cannibalised and trapped inside a permanent present.